The first time having sex can be something very nice or something traumatizing, but it's definitely something that no one forgets. So this article is intended to clarify some very important things that happen after the first sexual intercourse.
READ MORE
Questions about sex – Sex for beginners
How to attract women to bed – Valuable tips
First time #1 – Getting sexually aroused
The main signal for a girl that she is getting sexually excited is when her pussy starts to get wet. The vagina will also start getting longer and wider within your body and the clitoris will get bigger too.
The main signal for a boy that he is getting sexually aroused is when he has an erection. This means that your penis fills with blood and quickly grows and gets bigger.
When girls and boys are excited, the extra blood comes to the surface of the skin, especially around the vagina and the penis. You may feel pleasant sensations and more sensitive around the genital organs at the same time it feels hot. The heart begins to beat faster too and breathing becomes faster.
First time #2 – Something special or something to regret?
The first time when is not planned or was it something you felt pressured to do, you can feel bad or regret what happened. Your expectations will affect your feelings too.
Whatever your experience, things can change. Talking about it can usually help you overcome any embarrassing or worrying time. You may feel that your relationship has reached a new and special intimacy.
If you had a bad experience, it will not set a pattern for forever. You do not need do new sex with that person, or someone else.
First time #3 – Concern about getting pregnant
If you do not use contraceptives or find that they do not work properly, you may worry about being pregnant or becoming a father. Girls can get emergency contraception, commonly called morning-after pill, seventy hours after sex.
If she does not get emergency contraception, or if you do not want to take, there are still things that a doctor can do to help. For it is extremely important to consult with a doctor and tell an adult as soon as possible.
The first sign of pregnancy is usually when menstruation girl does not come down, but the concern being pregnant can change the menstrual cycle as well. You can buy chemical test kits. They are more expensive and you'll still have to see a doctor to be absolutely sure if you are pregnant or not.
If you think you or your partner is pregnant, you are probably anxious about what to do. Your family may have a negative reaction at first, but then they can help you deal with the situation.
If you really can not talk to a family about it, you may be able to get advice from an adult that you feel comfortable to talk. You can talk with a teacher at school or else.
First time #4 – Concern with a sexually transmitted disease
If you do not use a condom or if the condom breaks, then you may be concerned about having a sexually transmitted disease. In this case, you need to visit a doctor or clinic where you will be treated with confidentiality. This means that they will not tell their parents or anyone else about you.
Tests for sexually transmitted diseases usually involve a blood test. This may sound embarrassing, but do not worry, there are professionals who do this all the time.
STDs that are not treated can be transmitted to others and can cause serious illness. If you have a sexually transmitted disease, you do not have to tell your family.
However, you definitely need to talk to everyone you had sex, so they can find out if they had the disease too.
Some diseases can be in the body for a long time without appearing in exams. So if you have had sex with more than one person, the disease may have come from a previous partner.
If you have a sexually transmitted disease, it is important not to have sex before it is treated.
First time #5 – Bet on a good lubricant
To make the experience more enjoyable, make use of a good lubricant.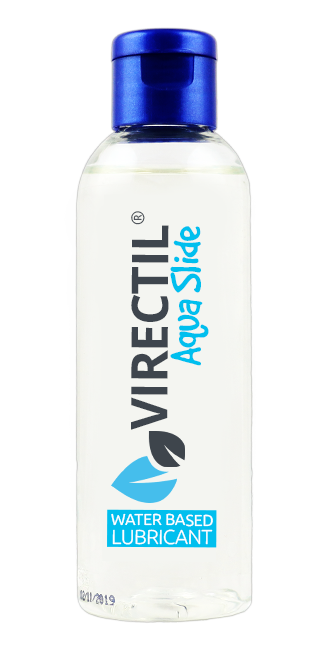 Virectil Aqua Slide is one of the lubricants which can be the best choice for you, because it is water-based and is ideal for use with condoms, as well as being very easy to clean after sex.
The benefits of it, go far beyond better ease of penetration. Many people who use the Virectil Aqua Slide, claim that it helps so that intercourse is more pleasurable, and avoid pain during sex. It can be used by both men and women, both in vaginal sex as in other practices. For more information please visit virectil.eu.