Delayed Ejaculation – How to Handle
The delayed ejaculation or inhibited ejaculation is the inability of man to achieve orgasm, even with his erect penis and excited. There are different forms of delayed ejaculation manifest. Some men, for example, report that they can reach orgasm when they masturbate but when someone else masturbate them, the orgasm is not reached or when you have sex with a woman, they can not reach the orgasm. Some are also unable to achieve orgasm if the partner stimulate them by hand.
When happens the delayed ejaculation
This can be a problem that occurs from time to time, temporary or can be something lasting, can also happen with some partners, but not all. The variables are many. Not many men seeking help to cure this disorder, usually are men over fifty years seeking help for this problem.
The most common form of this dysfunction is when a man can reach orgasm when masturbating or when receiving oral sex, but is unable to achieve orgasm when they have sex.
Causes
Possible causes of delayed ejaculation are many. Depression, medication side effects, fatigue, anxiety, too much masturbation, excessive alcohol or drugs and the inability to speak to the partner what man wants during sex can be an inhibitor to your orgasm.
Usually this dysfunction can cause a large decrease male sexual desire, making it less susceptible man to touch others, especially your partner.
Another common way to inhibit ejaculation is when the couple does not seek to innovate the relationship and ends up falling into the routine, making sex something mechanical. Some research sources report that excessive masturbation is also a decisive factor in creating this problem. So it can be of great help avoid excessive masturbation.
How to deal with delayed ejaculation
One way to handle this problem is to train male thinking, but it is extremely important, receive help from partner. The suggestion is that during intercourse, the man imagine the body movements that are similar to those that he does when he masturbates, it is also important that he try to have the same thoughts. To get the correct result, it is necessary that the couple talk to know what each one expects to receive during sex.
The couple must find a way to include the desires of the partner needs, and find exciting. It is very important to know which places the men and women prefer to be touched, with that intensity, which positions, which the movements and in which speed of movement, so only intercourse is pleasurable for both. Do not assume that a person likes something during sex if it was not talked before.
This conversation is needed, so that there is not a disagreement during intercourse and the man finish getting uncomfortable because of delayed ejaculation. With open dialogue between the couple, you can determine what is causing the disorder and what techniques can be used to prevent the problem remains disturbing the sex life of the couple.
Treatment 100% natural
Perhaps the best way to treat delayed ejaculation is to increase the sexual desire of man or treatment can come in many ways since it identified the cause of the problem. specialized doctors may prescribe own remedies for the specific case of each. If the cause is psychological, a few sessions with a therapist can be very helpful and help in solving the problem.
For those who want a simple solution, we recommended betting on a product that originates from natural ingredients and it has helped many men to solve problems related to sex. We are talking about the company Virectil supplements.
Potenzia Turbo Pack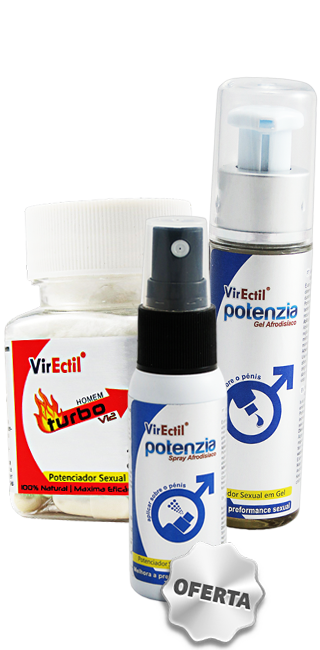 Potenzia Turbo Pack is the perfect combination to increase sexual potency of man. Are two products when combined, promote well as increased libido, stronger erections and more satisfying orgasms. Enjoy and check out the temporary promotion where you buy a Potenzia Turbo Pack and get a Potenzia Spray bottle.
The Virectil Turbo Man is a natural male aphrodisiac for men. This aphrodisiac creates a sense of uncontrollable desire. In addition to improving sexual performance, it helps improve energy levels and general well being, allowing aid effectively on issues such as, fatigue, age, lack of intimacy with your partner, worry or stress.
This aphrodisiac is also recommended for other disorders, such as sexua impotence, erectile dysfunction, low male sexual desire. Its advanced formula allows the man to get firmer erections in a short time, ie, this product is ideal to spice up the sex life of any man. Learn more about this and others products, here.