Sex games are great for spice up the couple's relationship. How far are you prepared to go on your quest for erotic fun? Sex games are for adventurous lovers who are willing to try something new in a challenge, like smearing each other with cream, making naughty pictures and making their own dirty movies.
You may also like to read:
5 Tips to increase sexual desire
12 Greatest Mistakes Of Men In Bed That Prevent Female Orgasm
Sex Games – Are You Ready for Erotic Fun? #1 – Erotic Getaways
When we get excited, our minds become much more malicious. A little tip, trick or suggestion can spice up your routine or make your sexual encounter unforgettable. That's what we'll see from now on.
Sex Games – Are You Ready for Erotic Fun? #2 – Tying, Treasure Hunt, and Sex Coupons
Tie. Tie the hands of your lover and invite him or her to make love with you. Watch the loved one trying to remove their clothes with their teeth. Next time, switch places.
Treasure hunt. Leave a series of sexy gifts and gifts such as sex toys, lube, and champagne, taking your lover all over the house until he reaches the final prize, which is you.
Sexual coupons. Make your own redeemable sex coupons, and present them as a package, as "rewards." You can also hide them one at a time where your lover will find them. Make them redeemable upon receipt. One tip is to make coupons for things like "a quickie," "hot oral sex," and "foreplay as an erotic masseur."
Sex Games – Are You Ready for Erotic Fun? #3 – Challenge, The Voyeur, Any Game
Challenge. Exchange challenging challenges, see how far you can go. Challenge your lover to tell her a fantasy, a sexual secret, perform a striptease, masturbate, take an erotic photo in public…
The Voyeur. Give your lover permission to see you from a secret hiding place, such as undressing and showering – then increase the heat by masturbating. Make sure you do a pretty good show.
Any game. Play any game, it can be poker, pinball or any other game. The prize is the winner's erotic fantasy to come true.
Sex Games – Are You Ready for Erotic Fun? #4 – Show and Say, Mannequin, Shopping, Messy Fun
Show and say. Tell your lover which parts of your body really excite you, and why. Touch the hot spots while talking about them. Take turns.
Mannequin. One of you becomes a mannequin, unable to move while being touched, kissed, naked, caressed and especially penetrated. Next time, move.
Shopping. Buy for your love a gift voucher at an adult toy store and define an expiration date. Make the date without going on an upcoming weekend in a hotel.
Messy fun. You may not be the type to play with your food, but you may change your mind after seeing what happens when you excite your lover. A spoonful of warm chocolate syrup with a pair of sensitive nipples looks like paradise, and it's a delicious aphrodisiac for anyone who gets licked.
There are some important things to remember when playing with food. Food, especially sweets and sugary foods, should be kept away from the vagina. Sugars can cause fungal infections, and oils are difficult to wash from the vaginal canal.
And finally, never, ever splash anything (like whipped cream) or insert bottles into the vagina or anal vents.
Aphrodisiacs are foods and beverages that have been used historically to inflame the senses, seduce and stir the passions of those who consume these romantic treats. In some cases, herbs, fruits or spices stimulate blood flow to the genitals, warming the lower body and increasing arousal.
Here are some wonderful aphrodisiacs for messy fun or food: avocado, basil, cinnamon, coffee, chocolate, damiana (herb), fennel, figs, grapes, honey, lavender, licorice, mangoes, mint, oysters, papaya, rosemary, petals Pink, strawberries and vanilla.
Sex Games – Are You Ready for Erotic Fun? #5 – Aphrodisiac for the couple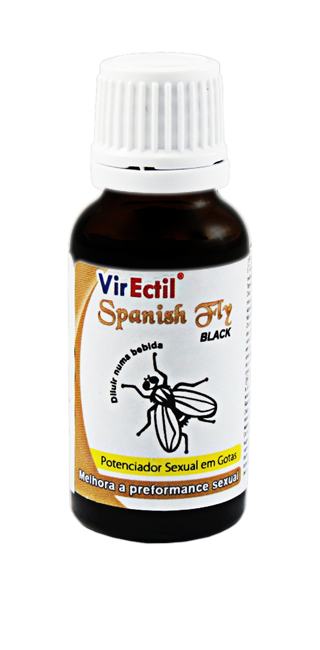 In a liquid format, the Spanish Fly Black Drops has its formula 100% natural and is a very powerful aphrodisiac for both men and women.
It can be mixed in other beverages and is a safe aphrodisiac. It has a revolutionary formula for having the same effect in both sexes, generating an uncontrollable desire. By being unisex partners can take the same drink and feel the effect.
In addition to improving sexual potency, it promotes great desire. It is an aphrodisiac highly recommended for people who are tired because of daily chores, seniors and those who want to increase their sexual desire.